Teething Soothing Roll On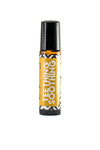 Great for soothing teething discomfort.
Helps soothe my baby's teething pain
Will surely recommend to friends and family!
I'm buying from them for the Ist time. But I'm surely coming for more.
This was my very first purchase from one of the pop-up stalls and it works wonders! Really helps my daughter in her teething phase, and I knew I had to stock up more, especially since there's more teeth growing in these next few months!
Everything is as promised!
Couldn't ask for better!
It is my first purchase with this product, and i fell in love with it!! It really helps with my LO, who is currently on a teething phase. She is always cranky, drooling, and her bibs will be all wet. After applying these product on her, she is less cranky and her drooling also stops. Love love love for this awesome product!!!